About The Exchange Club
National Exchange Club History
Charles A. Berkey is credited with the founding of this great organization. At his suggestion, the name "Exchange" was selected because the group wanted to exchange ideas and information with like-minded individuals about how to better serve their communities.
The first local Exchange Club was formed in Detroit, Michigan, in 1911. The second was the Exchange Club of Toledo, Ohio, formed in 1913. Subsequently, two others were organized in Grand Rapids, Michigan, and Cleveland, Ohio. These four clubs were the first to be chartered by The National Exchange Club after it was organized as a nonprofit, educational organization in 1917.
The Exchange Club of Farmington
The Exchange Club of Farmington was founded in 1928. Since then we have contributed tremendously to our Farmington Community. You can find the Exchange Club leading the Memorial Day Parades, handing flags out to the kids or at Winding Trails giving out hot chocolate and donuts at their Christmas Open House.
The Exchange Club of Farmington gives out several scholarships to Farmington High School seniors every year and we have several fundraisers in order to raise money to give right back to our community.
Interested in learning more? Please visit our 'Why Join Exchange?" page or Contact Us today!
Our Mission
"Exchange, America's Premier Service Club, working to make our communities better places to live."
The Exchange Club's National Project
The National Exchange Club's National Project, the prevention of child abuse, was adopted in 1979 with the encouragement of National President Dr. Edward North, Jr., a physician from Jackson, Mississippi, who observed increased incidences of abuse through his medical practice.
http://www.preventchildabuse.com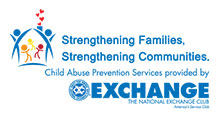 National Exchange Club Foundation
The National Exchange Club Foundation (NECF) was established in 1979, when the National Exchange Club, (NEC) – an all-volunteer service organization – adopted the Prevention of Child Abuse as its national project.
Today, the National Exchange Club Foundation helps fund the work of local Exchange Clubs and Child Abuse Prevention Centers as they develop and maintain community-based child abuse prevention programs, as well as supporting Exchange's Programs of Service, which include Youth Programs, Americanism and Community Service.